52 Blocks
For the past two years I have run a quilt along that coincides with the 'off' weeks of Project QUILTING – first it was 'Home Sweet Home' and then 'My Favorite Block'.  This year I'm going to do something a bit different – well, completely different.  I'm going to share a block tutorial each week for the entire year.
My plan for these blocks is that it's going to combine the two previous quilt alongs.  What I'm going to share with you all are traditional quilt blocks that are 'tweaked' to show a second element – like houses.
It all started when I saw this 'House Swoon' block by Rachael of Blue Mountain Daisy  She tweaked Camille Roskelley's Swoon block. Clever! She shows you how to do it, get the tutorial.
From seeing that…I went ahead and used it for my inspiration for the Double Wedding Ring Challenge and made my double wedding rings into an entire subdivision – again, tweaking a traditional block…
I'm going to take the 52 weeks of 2014 to explore traditional blocks 'twisted' into a secondary image like a house, tree, or even a bird!  I hope you decide to join in with me!
See how you can be a block designer HERE.
Flickr group has been created!  52 Blocks: Twisted Tradition
Hashtag for twitter and Instagram: #52bTT
Fabric suggestions… HERE.
Schedule – each block will be posted on a Wednesday
Jan 1st - Square Dancing Whale
Jan 8th -  Road Trip to California
Jan 15th – Homeward Bound Fish
Jan 22nd – Flutterby Butterfly
Jan 29th – Sugar Fox
Feb 5th – Drunkard's Owl by Diane Lapacek
Feb 12th – Heart Trick
Feb 19th – Farmer's Daughter's New Neighborhood
Feb 26th – Apple Flagstones
Mar 5th – Lucky Clover Vision
Mar 12th – Flying Leaf from Carla of Creatin' in the Sticks
Mar 19th – Rocky Road to Love
Mar 26th – Talking Heads from Erin Z of Faller Girl
Apr 2nd - Fluttering in Formation from Melissa of Sew BitterSweet Designs
Apr 9th – Hoppy Bunny Basket from Marian of Seems to Be Sew
Apr 16th - Triangle of Spools
Apr 23rd
Apr 30th – Marcia of Marcia's Crafty Sewing & Quilting
May 7th
May 14th
May 20th
May 28th
June 4th
June 11th
June 18th
June 25th – Colleen of Lucky Duck Dreams
July 2nd
July 9th
July 16th
July 23rd
July 30th
Aug 6th
Aug 13th
Aug 20th
Aug 27th
Sept 3rd
Sept 10th
Sept 17th
Sept 24th – Fat Quarter Shop
Oct 1st
Oct 8th
Oct 15th
Oct 22nd
Oct 29th
Nov 5th
Nov 12th
Nov 19th
Nov 26th
Dec 3rd
Dec 10th
Dec 17th
Dec 24th
Add the '52 Block' Button to your blog and help spread the word!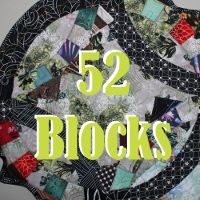 Once this is all over I'd like to create a  saleable pdf booklet of all the 52 blocks at one time.  Each individual block will still remain free on my site but some may want to have them all in one place.  Please keep this in mind if you volunteer to make a block – of course you will get proper credit in the pdf booklet but there will be no monetary compensation.
I'm a little delayed today getting the tutorial posted for the 52 Blocks Twisted Traditional Quilt Along!  Sorry about that – but I am at least getting it posted on Wednesday!  It's a pretty simple block this week but fabric selection, once again, makes all the difference in what you 'see' when you look at it! Triangle of Spools Block Tutorial for 52 Twisted Traditional Block Quilt Along Finished Block Size – 8" x 8" I twisted the traditional block 'Triangle of Squares", 1187b, for our next block. By now you know...
read more